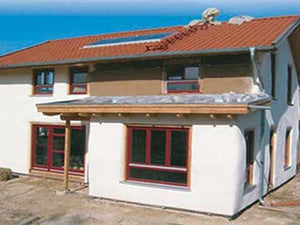 Green Planet Films
Houses of Straw
Regular price
$24.95
$0.00
Unit price
per
---
WATCH NOW ON THESE PLATFORMS

---
This film shows the development of building with strawbales in Germany. In interviews with owners, builders, architects and experts such as David Eisenberg, many relevant green building topics are discussed.
In the 1890s, pioneers of the sandhills of Nebraska found themselves building a new life on a treeless prairie, and from necessity began building their homes from bales of straw. Today modern - day pioneers are choosing straw-bale construction for its many advantages. There are now bale structures in nearly all of the 50 states of the USA and in many other countries as well. Building with straw bales is probably the only building technique developed originally in the United States and then coming to Europe.
Why build with straw?
Straw is an annually renewable crop, available wherever grain crops are grown. It is indeed a waste product, much of which is currently burnt in the fields. The thick walls offer superior insulation value. With a natural plaster, straw bale walls "breathe," and together with the sound absorbing qualities, provide a quiet, healthy interior environment.
Construction costs can be reduced as well: bales are cheap to buy and easy to work with. Stacked like huge bricks, straw-bale wall systems can be erected quickly without much building experience.
In Germany, we followed three house projects through different stages of building. Strawbale architect Dirk Scharmer explains strawbale construction in different stages.

CREDITS:
Director: Heidi Snel
Producer: Heidi Snel
Format: 4:3
NTSC or PAL
Number of discs: 1
DVD Release Date: 2004
Run Time: 43 min
Languages: English, French, Spanish and German
---