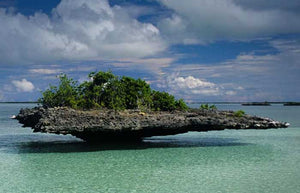 Green Planet Films
Guardians of Aldabra
Regular price
$19.95
$0.00
Unit price
per
Watch Now or Order a DVD
---
WATCH NOW ON THESE PLATFORMS

---
Aldabra is situated in the extreme south-west of the Seychelles archipelago, 600 km east of Africa, 400 km north-west of Madagascar. Aldabra was first declared Total Reserve and then designated a UNESCO World Heritage Site in 1982. It represents one of the most pristine environments of the entire world and the biggest raised atoll on Earth.
A few dedicated researchers and wardens live on this isolated atoll and look after the conservation of Aldabra's numerous species and environment.
This film documents the and activities of the rangers and researchers involved in conservation efforts, such as Ben Stobart, an English researcher who has been involved for three years with the Aldabra Marine Programme aimed to monitor the recovery of the coral reef ecosystem after the 1998 El-Ni?o event. Tony Jupiter, is one of Aldabra's Rangers and specializes in capturing and tagging marine turtles. Doi Malingri pilots the Flying Inflatable Boat (FIB) and went to Aldabra with the film crew to do aerials. The FIB proved so useful to researchers that is now permanently operational on the atoll.
FROM ITALY: Filmed on location in Aldabra.
Credits:
Produced by Aldabra Productions
2002
52 mins
---