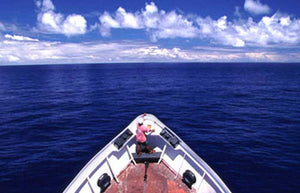 Green Planet Films
A SLOW BOAT TO SOMEWHERE: Exploring French Polynesia
Regular price
$20.00
$0.00
Unit price
per
Ride along on a rustic, and rusting, Polynesian cargo boat as it makes deliveries to 21 of the globe's most isolated coral reef atolls in the heart of the South Pacific Ocean. Along the 3,000-mile route meet black pearl divers, the man who found the Kon Tiki, Marlon Brando's Mutiny girlfriend, a ship laden with NFL-sized crewmen and many more - all set against the backdrop of a fast-and-forever changing paradise.

I jumped on the cargo boat for one of its monthly, 3,000-mile delivery jobs, taking us to ports-of-call that were literally just piles of sand and rock washed up on rims of coral, halfway between Australia and South America, each home to populations ranging from seven to two hundred fifty people. The trip took us through the Tuamotus, a chain of 78 atolls that sailors going back to Magellan dubbed the dangerous archipelago for its low-lying, barely visible, wooden-boat-sinking reefs.
Like a floating Super K-Mart, the ship is packed with 600 tons of - everything - from chicken and beef, to cement blocks and metal roofs, sugar and gasoline, shampoo and chainsaws, fishing boats and toilet paper, beer and cigarettes.
The cargo boat has changed life out here, for good and bad.
A JON BOWERMASTER FILM
OCEANS 8 FILMS presents
Sponsored by the
NATIONAL GEOGRAPHIC EXPEDITIONS COUNCIL
"A SLOWBOAT TO SOMEWHERE"
Edited by BETH SPIEGEL and KIT GRAY
Sound Design by SCOTT RADER
Videography by ALEX NICKS and JOHN ARMSTRONG
Produced, Directed and Written by JON BOWERMASTER
Jacket Photos: Peter McBride
TEAM: JON BOWERMASTER, PETER MCBRIDE, ALEX NICKS
26 mins
OCEANS 8
This ongoing project from writer and adventurer Jon Bowermaster includes a series of expeditions to explore the world's oceans from the seat of a sea kayak. Used as both transportation and as floating ambassadors, sea kayaks allow Jon and his teams - comprised of some of the world's best photographers, filmmakers, scientists and navigators - to reach corners of the world rarely seen. The goal of each expedition is adventure and education through exploration of local cultures, histories, environmental issues and the future of these varied regions. Supported by the National Geographic Expeditions Council, the expeditions have taken Jon to the heart of the Aleutian Islands, through the Tuamotu Atolls in French Polynesia, across the high plains of Bolivia, Chile and Argentina, up the wild coastline of Gabon in West Africa, along Croatia's Dalmatian Coast, and around the rugged shores of the Australian island of Tasmania.
---