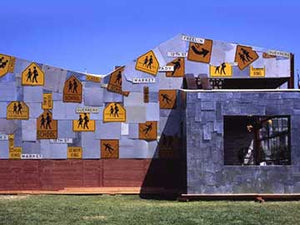 Green Planet Films
SCRAPHOUSE: San Francisco
Regular price
$39.00
$0.00
Unit price
per
DVD: Colleges/Universities, Gov't, Businesses
(includes Public Performance Rights) $139
DVD: K-12 Schools / Public Libraries/Home Video $39 
---
WATCH NOW ON THESE PLATFORMS

---
ScrapHouse was a temporary demonstration home, built entirely of salvaged material on Civic Center Plaza adjacent to San Francisco City Hall.
Challenge 1: Design
Rethinking a standard single-family home floor plan, the ScrapHouse Design Team generated an elegant design solution, inspired by the abundance of scrap material. Every material, from the foundation to the front door, was reclaimed and re-used.
Challenge 2: Search
Finding appropriate innovative materials was the next challenge. The team spent three weeks scouring the Bay Area for building materials, furnishings and finishes; purchasing new only hardware and fasteners. Some salvaged materials were re-used for their intended purpose, while others were reincarnated in unusual ways.
Challenge 3: Build
The ScrapHouse team's final challenge was a two-week blitz build, kicking off the last week of May and concluding with the public opening of the house itself on June 2, 2005.
With walls sheathed with everything from street signs and shower doors, ScrapHouse drew tens of thousands of passersby. ScrapHouse illustrated the possibilities—as well as the challenges—of green building, recycling, and reuse.
Over the course of just six weeks, a team of volunteers scoured Bay Area dumps and scrap yards. A group of architects, landscape architects, lighting specialists, and metal fabricators repurposed the materials, giving them new life. Solid core doors recovered from a school construction project became an interesting floor material. Outdated phone books became a wonderfully textured insulating wall. Retired firehoses from the San Francisco Fire Department were deployed as wall paneling, dramatically transforming a double height living space.
And when it was all said and done, "scrap" had taken on a whole new meaning.
Scraphouse: San Francisco was conceived by Anna Fitch and Chicken John
Directed by Anna Fitch
Produced by Winton / duPont (www.wdfilms.com) films
44 minutes
NTSC
All Regions
The ScrapHouse was designed by Public Architecture
---