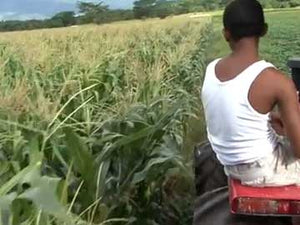 Green Planet Films
GROWING CHANGE: A Journey Inside Venezuela's Food Revolution
Regular price
$49.00
$0.00
Unit price
per
EDUCATIONAL DIGITAL DOWNLOAD: For self-hosted school servers $400 (download above, includes caption files).
DVD: Colleges/Universities $119
(includes Public Performance Rights)
DVD: K-12 Schools, Public Libraries, Nonprofits $49
---
WATCH NOW ON THESE PLATFORMS

---
In 2017, the food crisis in Venezuela is increasingly dire as the country struggles with economic mismanagement and collapsing oil prices. GROWING CHANGE offers a historic look into the not to distant past within this decade, to become food secure. The film, created in 2010/2011,  follows the filmmaker's journey to understand why current food systems leave hundreds of millions of people in hunger. It's a journey to understand how the world will feed itself in the future in the face of major environmental challenges.
The documentary begins with an investigation of the 2008 global food crisis, looking at the long-term underlying causes. Will expanding large-scale, energy-intensive agriculture, be the solution or re problems? If we already produce enough food to feed the world why do so many people go hungry?
After hearing about efforts in Venezuela to develop a more equitable and sustainable food and agriculture system, the filmmaker heads there to see if it's working and find out what we might be able to learn from this giant experiment.
We meet people in the cities and in the countryside and learn that while Venezuela once had a strong agriculture sector it was left behind as the country became a major oil exporting economy in the 20th century. After decades of urbanisation, government neglect for agriculture, and dependent on food imports, Venezuela faced a food crisis of its own. In may ways the country was a microcosm of the challenges facing much of the world today.
But the documentary takes us through a new food system as it's being constructed almost from scratch.
We meet farmers who are gaining access to land for the first time and working in cooperatives to break the country's reliance on imports.
In lush coastal villages we meet cocoa producers who are now protected against being paid below the minimum price and are now involved in the local processing of chocolate rather than just exporting raw beans.
We head out to sea with fisherfolk who are benefiting from new regulations that ban industrial trawling.
In the chaotic metropolis of Caracas we find urban gardens thriving and supplementing diets with fresh organic produce. We go inside shops where the urban poor have access to affordable food.
It's all part of a country-wide process towards "food sovereignty", driven by communities and the government. At the core of the process are principles of social justice and sustainability.
It's an inspirational story full of lively characters, thought provoking insights, stunning scenery and ideas to transform the food system.
Directed by Simon Cunich
Duration: 60 minutes
2011
AWARDS
Shark Island Documentary Award for Best Social Impact Documentary.
---