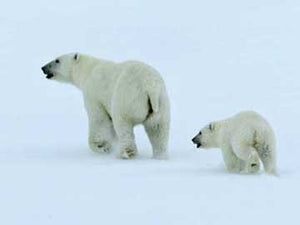 Green Planet Films
The Cost of Oil
Regular price
$24.95
$0.00
Unit price
per
The pressure to drill for oil in the Arctic has intensified with the increasing prices of crude oil. But the potential for lower oil prices is at what cost? In this feature-length documentary the Alaskan Inupiat show how oil drilling in their nearby seas will forever alter their subsistence-living lifestyle and multiply the struggles of preserving their rich cultural history. Members of the oil industry and expert scientists also highlight the predicted effects of oil drilling on the delicate Arctic ecosystem, and in turn, the effects on a society dependent on that ecosystem.
---
WATCH NOW ON THESE PLATFORMS

---
The U.S. and world's increasing demand for oil is driving the price of crude oil to historic highs. The pressure to explore and drill for oil in the Arctic is similarly increasing in order to lower the price of oil. But the potential for lower oil prices is at what cost?
The feature length documentary The Cost of Oil: Voices from the Arctic examines the subsistence lifestyle of one Inupiat society in Point Hope, Alaska that may be forever altered, or even destroyed, by exploration and drilling for oil in the Beaufort and Chukchi seas. Captivating images and footage from the Alaskan North Slope set the scene for the native peoples to describe how their cultural heritage, hunting methods, language, and subsistence lifestyle will be affected by offshore oil drilling. The Inupiat tell of their struggles of balancing the poverty relating to increased globalization with preserving their historical way of life. This strife is multiplied by attempting to pass on their rich cultural ancestry to teens striving to identify who they are and where they belong in a world where their future is so uncertain.
Members of the oil industry, expert biologists, environmentalists, and natives highlight the predicted effects of exploring and drilling for oil in the delicate Arctic ecosystem. Through this film viewers discover the irony of drilling for oil in order to become a more self-sustaining nation, and in doing so, potentially destroying a self-sustaining culture. What is the true cost of oil to this Arctic culture?
CREDITS:
Director: Coulter Mitchell
Producer: Joshua C. Dukes
Format: NTSC
Region: Region 0
Number of discs:
DVD Release Date: April 1, 2009
Run Time: 42 minutes
AWARDS:
Best Documentary, Festivus Film Festival
Best Documentary, East Lansing Film Festival
---