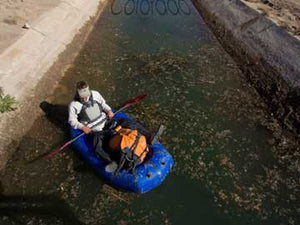 Green Planet Films
REMAINS OF A RIVER: From Source to Sea Down the Colorado
Regular price
$19.95
$0.00
Unit price
per
Two friends. 113 days. 1,700 miles. One endangered river. From October 2011 to January 2012, Will Stauffer-Norris and Zak Podmore hiked and paddled from Wyoming's Wind River Mountains to Mexico following the Colorado River system from its farthest inland source to the sea, filming and narrating on the fly. The resulting film series, Remains of a River, is a story of friendship, adventure and environmental degradation.
DVD: Colleges/Universities $119
(includes Public Performance Rights)
DVD: Home Video  $19.95
DVD: Public Libraries (Circulation Only) $39 
---
WATCH NOW ON THESE PLATFORMS

---
Zak Podmore and Will Stauffer-Norris, two recent graduates, decide to paddle the Colorado River from source to sea. From October 2011 to January 2012, hiking and paddling, they travel 1700 miles from Wyoming to Mexico. Along the way, they walk the Wind River Mountains, paddle the Flaming Gorge Reservoir, the Canyonlands, Lake Powell, the Grand Canyon, and Lake Mead. Ultimately, the mighty Colorado is reduced to a trickle and they must hike through the Mexican desert to reach the sea. As they paddle downstream, they see firsthand the environmental damage done to the Colorado River and consider the ethics of draining a wild river to support a desert civilization. The film features a few interviews with characters they meet along the way, who help shed light on the complexities of the Colorado River.
Citizen Science map with images and data
http://downthecolorado.org/dispatches/
Follow along, read their BLOG.
OP ED by Zak in the HUFFINGTON POST
http://www.huffingtonpost.com/zachary-podmore/colorado-river-environment_b_1306665.html
CREDITS:
Produced and Directed by: Will Stauffer-Norris
Format: NTSC Widescreen
Region: All Regions
DVD Release Date: March 2013
Run Time: 47 minute feature and shorts
SUBTITLES: English for 47 min version
DVD Contains: 47 min, 22 min and 3 min versions, and companion media links
FILM FESTIVALS:
Colorado Environmental Film Festival,
Reel Paddling Film Festival
National Paddling Film Festival
Wild and Scenic Film Festival
---