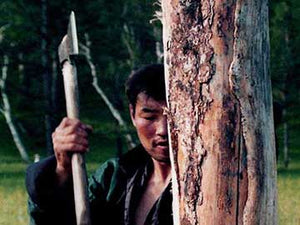 Green Planet Films
Mujaan (The Craftsman)
Regular price
$24.95
$0.00
Unit price
per
---
WATCH NOW ON THESE PLATFORMS

---
Mujaan  (The Craftsman) is a twenty-five minute poetic record of how Mongolian nomads have built their yurts by hand for the past 1,000 years.
On the distant steppes of Mongolia, using only simple tools, strength and ingenuity, a nomad builds a home much the way his ancestors have for the past one thousand years. Mujaan (The Craftsman) is a vivid window to a disappearing way of life in a pristine wilderness.

CREDITS:
Chris McKee - Producer, Director, Videographer
Adam Heller - Editor
Amy Reed - Assistant Editor, Sound Designer
Badma - Assistant Producer, Assistant Director
Sukhé - Lead Actor
Daniel Feinsmith - Composer
Format: 16:9 NTSC
Region: All Regions
Number of discs: 1
DVD Release Date: October 2005
Run Time: 25 minutes
Features:
Mujaan - 25 minutes.
Elements of Mujaan - six 3 minute shorts.
Commentary Tracks - with archaeologist Jeannine Davis-Kimball, editor Adam Heller & producer Chris McKee.
TEACHERS GUIDE
includes a 12 page insert with three classroom lessons & information about Mongolia.
FESTIVALS/AWARDS:
* Slamdance Film Festival
* Banff Mountain Film Festival
* Cinequest Film Festival
* Short Shorts Film Festival / Japan Expo 2005
* Sonoma Valley Film Festival
* Au Trans Mountain Film Festival
* Silver Lake Film Festival
* Telluride Mountain Film Festival
* Kendall Mountain Film Festival
* Syracuse Film Festival
* Smithsonian Museum of Natural History, Mongolia's 800th Anniversary celebration
* U.S. Peace Corps 41st Annual National Conference
* Indie Film Café, local broadcast, Milwaukee, U.S.
---