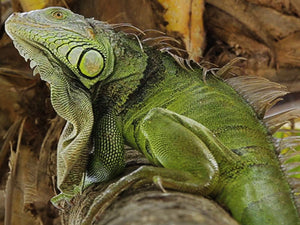 Green Planet Films
It Ain't Easy Being Green
Regular price
$39.00
$0.00
Unit price
per
EDUCATIONAL DIGITAL DOWNLOAD: For self-hosted school servers $250

(PURCHASE a download above, includes caption file).
A spellbinding documentary that reveals how people and green iguanas can co-exist on a small Caribbean island.
DVD: Colleges/Universities, Government  $139
(includes Public Performance Rights)
DVD: K-12 School $59
(includes Public Performance Rights)
DVD: Community Screening License $139
DVD: 
Public Libraries  Circ Only $59
---
WATCH NOW ON THESE PLATFORMS

---
In the U.S. Virgin Islands, green iguanas are dramatically increasing in number and spreading. The situation has left most humans and iguanas scratching their heads about how to get by in the fast-changing island environment. The film engages in a lively debate about when and where animals are welcome, and if it is possible to create environments where it is easier for humans and all species to co-exist. Of great concern is how to protect local agricultural production and at the same time provide a welcoming place for iguanas. Will human-iguana differences and tension prevail? Or can the island's two and four-legged creatures peacefully.
Produced and Directed by Crystal Fortwangler
35 minutes | 2017
SDH Subtitles
---