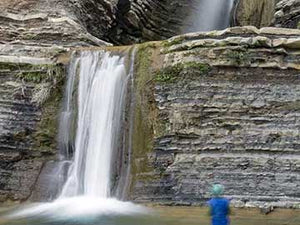 Green Planet Films
Watershed Revolution
Regular price
$20.00
$0.00
Unit price
per
EDUCATIONAL DIGITAL DOWNLOAD: For self-hosted school servers $250 (download above, includes caption file). Or license for 1 year for $75.
---
WATCH NOW ON THESE PLATFORMS

---
"Where does your water come from?" This question perplexed most of the audiences that Paul Jenkin surveyed during his worldwide lectures on ecosystems and dam removal. He was surprised to discover that very few people in his own community understood the value of the Ventura River as an independent water supply, unique in Southern California. In order to raise awareness, in 2007 Jenkin and filmmaker Rich Reid set out to make a film documenting the issues affecting their watershed. Over a two year period, through floods, fire and drought, they visually define a watershed and offer ways to protect future water supplies. With an area of 200 square miles, the Ventura River watershed is small in scale compared to some of the larger watersheds in the United States. However, this region suffers many of the same problems with habitat degradation, dams, water supply, and water quality.
According to John Wesley Powell, the famous explorer who led the 1869 expedition through the Grand Canyon, "A watershed is that area of land, a bounded hydrologic system, within which all living things are inextricably linked by their common water course and where, as humans settled, simple logic demanded that they become part of a community." The compelling short environmental documentary Watershed Revolution highlights the community working to protect the Ventura River. The film includes powerful still images, compelling time-lapse photography and high definition video plus a popular score by local musicians. Residents provide insight into their dedication to protect this unique watershed. Some of important issues covered in this film include beach erosion, wetland restoration, open space acquisition, dam removal, river parkways and water quality.
Special Features Four short films: Sea to Summit (19 min), Growing the Beaches (12 min), Shifting Baselines in the Surf (4 min), Stream Team (4 min)
Credits PRODUCER and DIRECTOR Rich Reid CO-PRODUCER Paul Jenkin
EDITOR Brandon Paul Watts
Awards BEST DOCUMENTARY SHORT - Ojai-Ventura International Film Festival - November 7, 2009 OFFICAL SELECTION - Wild and Scenic Environmental Film Festival - January 15, 2010 OFFICAL SELECTION - Sonoma Environmental Film Festival – January 22, 2010
Copyright 2009 Rich Reid
Run Time: 30 minutes Languages: English and Spanish
---