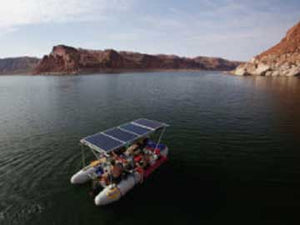 Green Planet Films
POWELL TO POWELL: Portraits of the Upper Colorado
Regular price
$39.00
$0.00
Unit price
per
DVD: Universities/Colleges $69
DVD: K-12 Schools, Public Libraries $39
---
WATCH NOW ON THESE PLATFORMS

---
From June through September 2012 we walked, kayaked, and rafted from Rocky Mountain National Park to Lake Powell along the Colorado River. Along the way we talked to over 30 people involved in the Colorado: farmers, ranchers, water managers, professional rafters, conservationists, and more.
Our journey is told in 5 chapters.
1: "Complicating the Divide" examines transbasin diversions.
2: "Profit and Play" explores recreation.
3: "The Desert Blooms" looks at the booming fracking industry and agriculture.
4: "Confluence" ponders solutions to the Colorado's myriad problems.
5: "A New Way Downstream" shows our solar-powered voyage across Lake Powell.
24 mins
Closed Captioned
Credits:
Will Stauffer-Norris
David Spiegel
Zak Podmore
Carson McMurray
For more information, please visit:
downthecolorado.org
Thanks to:
The State of the Rockies Project: coloradocollege.edu/stateoftherockies
Marine Ventures Foundation: marineventures.org
Music: "Santa Leone" by Pajaro
---