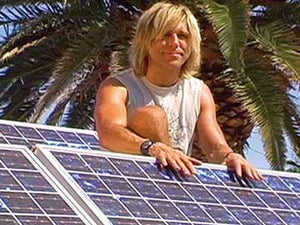 Green Planet Films
Solar Power 4 Me
Regular price
$20.00
$0.00
Unit price
per
MAKE YOUR OWN FREE POWER FROM THE SUN ! Solar panels are easy to install and have no moving parts. You can even SELL power back to the power company and make money every time the sun is shining. Markus Rothkranz takes you through his creative solar powered home and shows you how to make your own power from the sun, with lots of energy saving tips.
---
WATCH NOW ON THESE PLATFORMS

---
MAKE YOUR OWN FREE POWER FROM THE SUN! It's easy and takes very little effort. No moving parts. Nothing toxic. Just hook up some solar panels and you are on your way to energy independence and saving money. You can even make money buy selling energy you generate from sunlight back to the power company. For the first time, raw food guru Markus Rothkranz takes you on an exclusive tour through his private home and gives you a glimpse of his solar powered artist dream home and shows you how he singlehandedly made his home powered by sunlight. If he can do it, so can you!
Markus explains the differences between battery (completely off-grid) systems and intertie systems that backfeed the power company. In his highly animated fun way, he also explains with giddy enthusiasm how insulation and "thermal mass" can make even more difference than generating massive amounts of power. Markus explains how tankless water heaters work and how to wire up some really unique clever devices (like car radios for 12 volt killer sound systems). Definitely entertaining. For those who have been following Markus through his health and healing sites, this is a good chance to see his inner private world... his bedrooms, bathrooms, studio, office etc.- all filled with his sculptures and paintings. There are some great home improvement ideas... you can tell he used to work in Hollywood. Being energy efficient does not mean a boring spartan lifestyle. Quite the contrary. This will make you the talk of the neighborhood. In these economic times, saving money and saving the planet are high priority. Sunlight is free. Why not use it?
CREDITS:
Directed and Produced by: Markus Rothkranz
Format: Full Screen
Region: NTSC DVD-R
Number of discs: 1
DVD Release Date: 2009
Run Time: 54 minutes
---