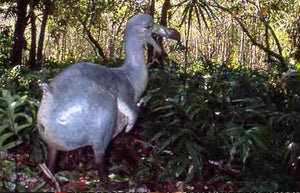 Green Planet Films
Return of the Dodo
Regular price
$0.00
$0.00
Unit price
per
---
WATCH NOW ON THESE PLATFORMS

---
This film is about people making a difference. A shared fascination for the Dodo, a passion for wildlife, and desire to protect ecosystems is what unites a characterful group of artists and scientists. They inspire each other to reconstruct in bronze nine extinct creatures from Mauritius, including the Dodo, for return to their natural habitat. As a conservation showpiece unveiled by the Prime Minister, the sculptures stand as a memorial to current vital conservation programmes that are rescuing Mauritius Fodies, Pink Pigeons and Echo Parakeets from the brink of extinction.
Contains footage from the first release of the Mauritius Fodies plus nestlings reared in a controlled breeding programme. Mauritius Kestral and Echo Parakeet chicks are also filmed being managed in wild habitats. The physical reconstruction of the sculpture is dramatic, a bronze foundry setting is juxtaposed against wildlife scenes. The story is told through personal voices.
Featuring conservationist Dr. Carl Jones (MBE) and Pangolin-Editions Foundry, UK.
Credits:
Produced/Directed/Edited by Zuleika Kingdon
Music: Brian Gascoigne
Special Effects: Iona Fabian
Sculptures: Nick Bibby
Illustrations: Julian Pender-Hume
2004
70 mins
---