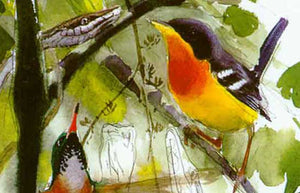 Green Planet Films
Ten Days to Paint the Forest
Regular price
$24.95
$0.00
Unit price
per
Explores Peru & Ecuador's unknown dry forest with top wildlife artists. Watch them draw and paint birds and bears in support of a bold community conservation project.
---
WATCH NOW ON THESE PLATFORMS

---
An international group from the Artists for Nature Foundation are invited to Peru to sketch and paint the unusual dry forest of Tumbesia. It teems with unique species but is being cut down at an alarming rate.
A local community have got together to put life back into their forest and restore their land to what it was. Chaparri Reserve is the first self-run project of its kind and the artists agreed to give of their time and talent to support the farmers' success in turning around the fortunes of their forests. Proceeds from the book of their artwork, the pictures themselves, and this video too, will promote their cause.
See how the artists do it: from the moment they spot a bird to the last stroke of the brush. As they paint, they explain what they do, what motivates them, and what their feelings are for the forest and its creatures.
But its not just about painting: see extraordinary film of Spectacled Bear and White-winged Guan in their breeding season; endemic hummingbirds dance above a waterfall as they bathe; the rare Marvellous Spatuletails fight over their mupa mupa trees; traditional fishermen surf the waves in their flimsy reed canoes.
This film gives a deep appreciation of one of the world's three richest areas of biodiversity. Though faced with many threats, a small corner has been saved by the bold community project at Chaparri Reserve.
LANGUAGES: English and Spanish
Produced by: Richard and Julia Kemp
Running Time: 1hr 22min
---